Based on passion, responsibility, and self-organization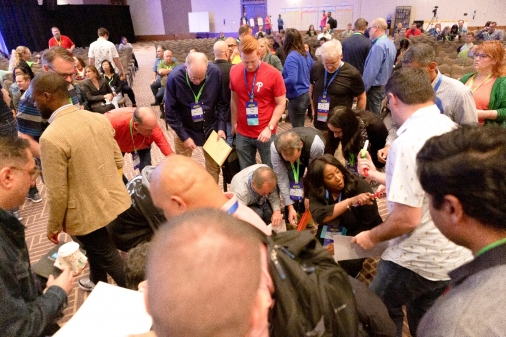 Open Space is the main event on the second day of Global Scrum Gatherings. If you've never experienced Open Space, here's an overview of what to expect.
When you enter in the morning, you'll see chairs set up in a large circle with a large "open space" in the center and a large blank wall off to the side, which is often referred to as the Marketplace. Your facilitator will welcome everyone and then the fun begins.
Anyone who wishes, is invited to write their chosen topic of discussion on paper, step up to a microphone to announce the subject. Keep in mind that as the initiator of the topic you are responsible for guiding the discussion.
Session topics should be ideas to share, or questions to pose that you'd like to explore with others. This is the time and place where you'll have many people with the experience and interest in helping you find solutions to your challenges. You might also want to share an experience with others to see if there are other lessons to be learned beyond the ones you found.
After a discussion topic is announced, the initiator walks it over to the blank wall to post it in an available open time/location slot.
After all topics are announced and posted on the wall, people collaboratively combine and change the schedule. This is when you might ask for someone to shift their session to a new slot, or two sessions might be combined into one.
Once the schedule is solidified, everyone is invited to the Marketplace to choose their own schedule. The following hours are spent in these sessions.
At the end of the Open Space sessions, everyone comes together to share experiences, "aha" moments, and other takeaways. At this point, the 'open space' is closed.
The Four Principles and One Law of Open Space
The four principles are designed to enable full participation and encourage creativity without judgement.
Whoever comes are the right people

Whatever happens is the only thing that could happen

Whenever it starts is the right time

When it's over, it's over
The One Law: The Law of Mobility
If you find yourself not learning or contributing, take responsibility and move to somewhere you can.
"I do a variety of things. On the one hand I engineer 'learn by doing' experiences for students at the University of Aberdeen with lean, agile, & service design, because people learn best by doing, and these three amigos all use that approach too. On the other hand, I facilitate co-creative events organised by my partners at Code the City, and as part of the Play4Agile team because we all know more than we think we do, and we can all learn from each other. "
Open Space Facilitator: Dr. Bruce Scharlau
Copyright © 2008-2019 SCRUM ALLIANCE®, Inc. All rights reserved.